Watch Our Video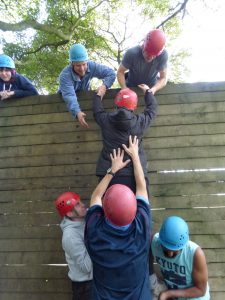 If you are looking for a memorable half day, full day or even a few days away for your organisation, our experienced and friendly staff will work closely with you to put together the package that you want for your group.
Whether you want to use adventure activities or problem solving based sessions for your staff we'll talk with you beforehand to ensure you get exactly what you want and the most out of your time with us. Perhaps your aim is to work in a different environment, to bring new teams together, or to celebrate with staff using an exciting away day. You may simply want an enjoyable, fun day which allows people to relax away from normal pressures.
The Centre is easily accessible from Buxton by road and we can organise a pickup from Buxton railway station. We've put together some handy directions here (please don't rely on your Sat Nav!)
What we can offer
Activities include caving, canoeing and kayaking, abseiling, mountain biking, zip wire, ropes course, orienteering, rock climbing, gorge walking and hill walking as well as focused problem solving activities to develop specific team needs.
A programme can be based on separate activities or can link activities together to create a challenge journey for your team. View all our activities here.
Other options include life coaching and creative sessions with a local sculpture artist. These are a few ideas, we have the flexibility to incorporate what you want into a tailored programme.
Why use us
Professional, experienced and highly qualified staff
Our excellent safety record
AALA Licenced
We plan the day for your group – no day is the same
We make it fun and sociable
Both outdoor and indoor facilities
Enhance your visit
We can provide catering during your visit whether this is a sit down meal or a cold buffet lunch. If you want to stay a little longer we have a mix of twin and dormitory style rooms or you can stay in our glamping campsite within the grounds. We are also able to recommend several hotels nearby.
Some recent feedback…
"Everything was perfect – from the Centre itself, to the range of activities – and we are very grateful for all your hard work in ensuring everyone got involved and had a good time. We will definitely be recommending White Hall to other colleagues, and send our very best wishes to you and the team for your all your endeavours in the future. Many thanks again!" Deloitte
"We all enjoyed an absolutely terrific day, and to be honest it exceeded my expectations. Our instructors were great, the activities were well planned and engaged everyone (nice to see our competitive spirit alive & well!), lunch was delicious, and the weather held out for us. It couldn't have gone any better. Big thanks, I'd highly recommend any team to head for a day at White Hall." Boutinot
"The team from White Hall were fantastic putting together a day that enabled everyone in the new team to get involved, start talking and build that team ethos that we need. Activities encouraged us to work as a team and solve problems together whilst making sure everyone had a smile on their face throughout the day. I couldn't recommend them highly enough." Craig Anthony, Head of Development British Orienteering
"A big range of activities and a good contrast to what we have done before. There was something for everybody. It has been valuable time out of the office. The day helped integrate new people into the team from our different offices." Planning and Design
Contact us on 01298 23260 to develop and plan a programme of activities for your team or to arrange a site visit to discuss your requirements.
Watch this video of an event we ran for New Balance