We're excited to start collecting stories and memories of students who have visited White Hall Outdoor Education Centre since it opened almost 70 years ago so that we can create a film about its history in a £10,000 project funded by the Heritage Lottery Fund called 'My White Hall Story.'
White Hall Centre was the first of it's kind in the country to be opened by a local authority and is recognised as a leading influence in the development of outdoor education in the UK and across the world.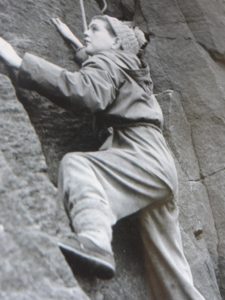 Since opening in 1951 more than a million people have taken part in residential, day and outreach courses enjoying rock climbing, caving, mountain biking and canoeing in the surrounding Peak District as well as using the centre's onsite climbing wall, ropes course and zip wire facilities.
We're keen to hear 'My White Hall Story' from the centre's first visitors who will now be in their 80s and from all those visiting over the last seven decades to the present day.
Stories will be collected by letter, email and phone and also in person at an open day (date to be announced) where ex-students will be invited to see how the centre operates and share their memories.
We're commissioning a film crew of local students to produce collected stories into a film which will premiere at a launch event for contributors before going on a tour of the county as part of a display at museums, libraries and other venues. It will also be used as an online educational resource to be shown in schools and will be archived in Derbyshire county council's Derbyshire Record Office.

Jonathan Platt, Head of Heritage Lottery Fund East Midlands said: "Thanks to National Lottery players, we are delighted to be able to help White Hall Education Centre celebrate their upcoming 70 year anniversary. By capturing the cherished memories of people who gained real life changing experiences and built new friendships as young people, the story of the centre can be shared."
Share your memories of White Hall Centre:
Email: my.whitehall@derbyshire.gov.uk
Post: My White Hall Story, White Hall Centre, Manchester Road, Buxton SK17 6SX
Talk to us: 01298 23260 (ask for Darran or Dan)
About the Heritage Lottery Fund
Thanks to National Lottery players, the Heritage Lottery Fund invests money to help people across the UK explore, enjoy and protect the heritage they care about – from archaeology to historic parks and buildings and from precious memories and collections to rare wildlife.
For more information visit www.hlf.org.uk